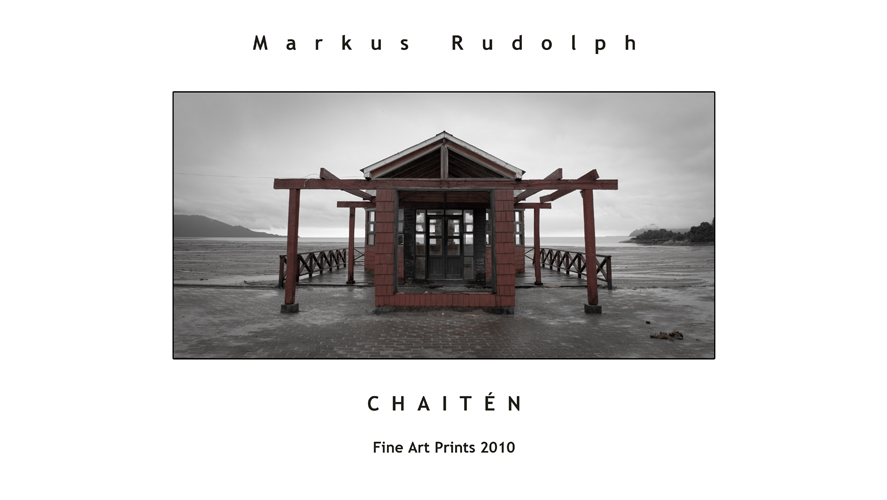 CHAITEN / Fine Art Prints 2010 / Din A 3+

The town of Chaiten - located in the chilenean part of Patagonia has been destroyed by an eruption of the volcano "Chaiten" in February 2009. Due to the continued activity of the volcano the chilenean government decided not to reconstruct the town. However 300 of the original 4000 inhabitants still live in the less impacted parts without any govenment aid, water, electric power supply amd without any perspective. Chaiten today is a ghost town with deserted hotels, cars being left by the former inhabitants and petrol stations out of service since months. The below photographs where taken the afternoon of Feb. 13th 2010.

Die im chilenischen Teil Patagoniens gelegene Stadt Chaiten wurde im Februar 2009 durch die Eruption des gleichnamigen Vulkans beinahe voellig zerstoert. Aufgrund anhaltender vulkanischer Aktivitaet in diesem Gebiet entschied die chilenische Regierung die Stadt nicht wieder aufzubauen. Im weniger durch den Vulkanausbruch beintraechtigten Teil Chaitens leben noch immer 300 der urspruenglichen 4000 Einwohner - ohne jegliche Unterstuetzung der Regierung, ohne fliessendes Wasser oder Strom - und ohne Hoffnung. Chaiten ist heute eine Geisterstadt voller verlassener Hotels, vor sich hin rostender Autos die von Ihren Besitzern zurueckgelassen wurden und leerstehender Tankstellen. Die Aufnahmen entstanden am Nachmittag des 13. Februar 2010.

---
(C) MARKUS RUDOLPH 2011